KYOTO INTERNATIONAL CONSORTIUM FOR ASIAN STUDIES (KICAS) FOUNDATION AGREEMENT
KYOTO INTERNATIONAL CONSORTIUM FOR ASIAN STUDIES (KICAS)
FOUNDATION AGREEMENT
1. Purpose
The purpose of the consortium is to enhance integrated Asian studies across regional and discipline borders through international and interdisciplinary collaboration of partner universities and institutions of Kyoto University Asian Studies Unit (KUASU).
2. Function
The consortium functions as a platform for joint research activities, international conferences and workshops, publication, student and faculty exchange, and global human resource development through international collaboration.
3. Membership
The members of the consortium are individuals and institutions that are engaged in Asian studies.
4. Organization
The international steering committee works with KUASU for realization of the purpose of the consortium.
Members can organize networks within the consortium based on specified focuses.
The secretary office of the consortium is placed in KUASU.
5. Founding date and place
Kyoto Consortium for Asian Studies is founded on 13 January 2014 at Kyoto University.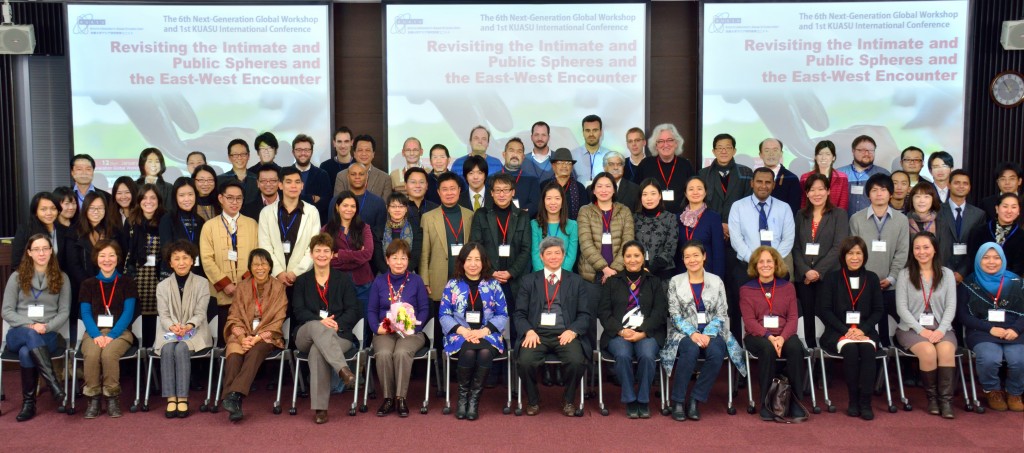 Group photo of all participants at the 6th Next-Generation Global Workshop, January 2014 .
Edited 2 time(s). Last edit at 11/26/2014 11:27AM by KICAS Admin.